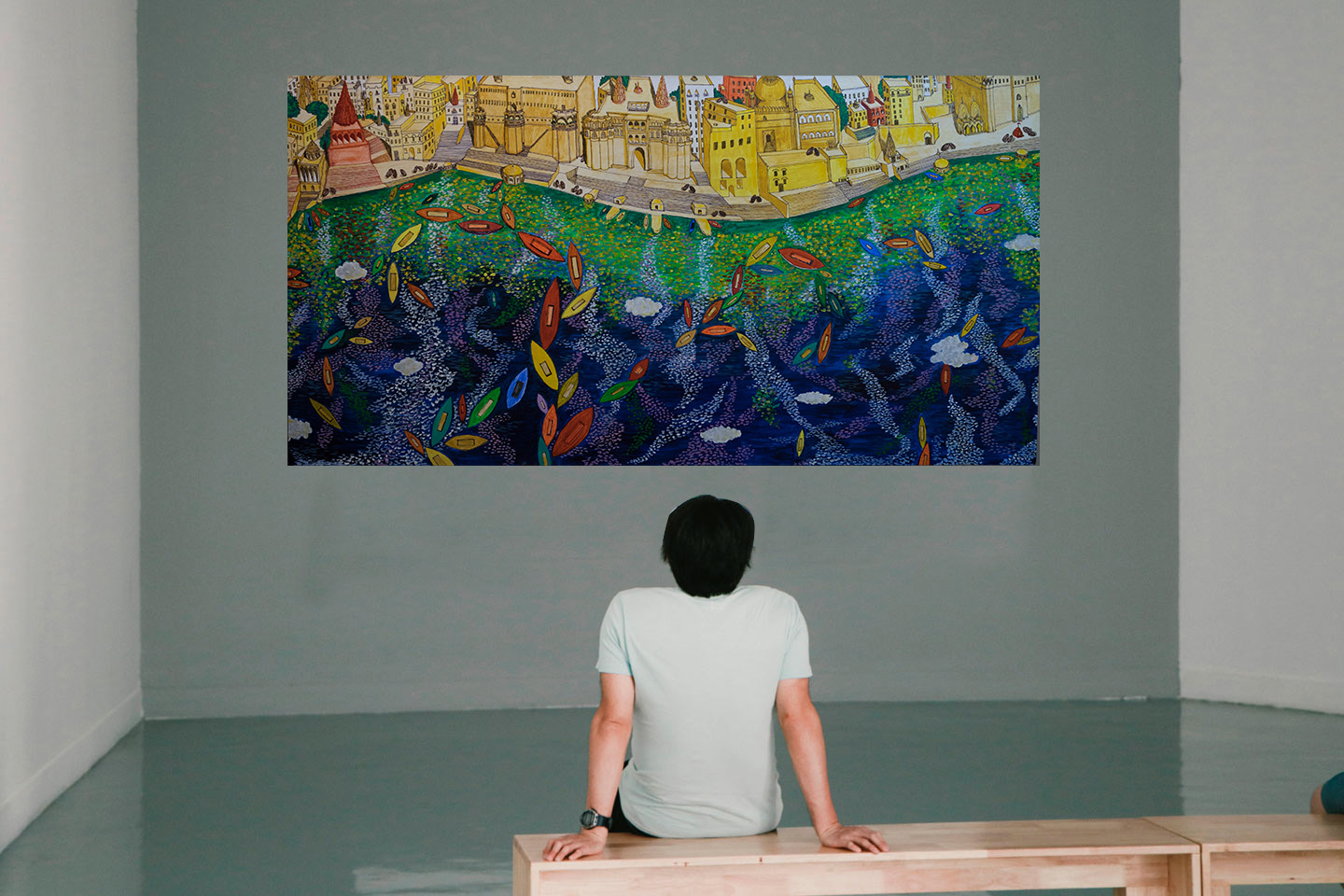 The Terribly Tiny Gallery
The Terribly Tiny Gallery is your source for Art – I have Ready works of Art that you can see here or access my email, or even visit my space and purchase.
I also work on Commissioned Paintings, Installations & Video Art.
My recent Art Video currently doing the rounds of international film festivals:
Anantashayanam - The Cosmic Dream Sleep of Vishnu.
Anantashayanam, - The Cosmic Dream Sleep of Vishnu, is my live-action/Animation, Experimental, Art Video Film of 3: 37 mins duration. It draws a very clear parallel between The Scientifically Accepted Big Bang and Big Crunch Theory of Cosmology, of the Creation of the Universe, and the Hindu God Vishnu's cyclical sleep on Ananta, the 1000 headed serpent on the eternal milky ocean.
AnanthaShayanam -Video Art Project
One of my constant endeavors in my Art Practice revolves around interpreting man's multiple theories on Creationism. I believe Vishnu's Cosmic Dream Sleep, Anantashayanam, corresponds to the most widely accepted scientific theory of Creation, the Big Bang and the Big Contraction...creation and destruction.
Hindu creation myths say this is not the first universe. After each old universe is destroyed nothing is left but a vast ocean. Floating on this ocean, resting on the great snake Ananta, is Lord Vishnu. A lotus flower springs from his navel and from this comes Lord Brahma. And from Lord Brahma comes all creation. It's a story of ceaseless, continuous creation, of the incredibly Big Bang of Creation. This Art Video project attempts to represent this cosmology myth, its striking focus on (a) the endlessly recycling periods of time, and (b) the notion of continuing decline.
The cosmic sleep of Vishnu invites us to consider creation from the perspective of time, the unfolding of the past into the present and the present into the future. The cosmos may have been created and destroyed, but it represents only one turn in the perpetual "wheel of time". After a 100 years in the life of Brahma, (= just over 311 trillion human years), the entire process repeats itself, endlessly.
Conclusion: The very idea of a sudden expansion out of nothingness into an ever-growing space and mass is proof of the vastness of knowledge left to be discovered.
The film is a live-action animated film shot on blue screen, with my own illustrations animated onto the live one-shot action. It starts with the toes and feet of Lord Vishnu, pans up, and reveals his consort Lakshmi, and how a lotus flower grows out of his navel, to bloom; and the appearance of Lord Brahma. The cosmic egg of creation appears and all the universe is created with a sudden Big Bang. Cosmoses move around and evil forces appear, Madhu & Kaitabha. Lakshmi warns Vishnu of this. He has all along been blissfully sleeping on the gently rocking multi-coiled serpent Ananta. Vishnu destroys the demons, and resumes his sleep; the universe is peaceful. Then the great Crunch happens and after another implosion, nothingness remains. Text explains this concept briefly. Then out of this nothingness, the cycle starts again, with Vishnu's toes appearing again.
Official Selections:
Lanzarote Arts Festival, Canary Island, 2019
Larroque Arts Fest, France
Indie Short Fest , LA, USA - Animation
Indie Short Fest , LA, USA - Best Short Film
Indie Short Fest , LA, USA - VFX
Indie-X Film Fest, LA
Druk Intl. Film Festival, Bhutan
The $5 Film Festival - Semi-Finalist
Arunachal Arts & Literature Festival, Arunachal Pradesh, India
8th Mumbai Intl. Short film Festival
3rd South Asian Short Film Festival
Golden State Film Festival, L A
International New York Film Festival 2020 - Semi Finalist
Awards
DIFF-2019
Best Experimental Film
Five Continents International Film Fest, Venezuela, 2019
Best Experimental Film
Best Art Direction
Special Mention for VFX
---
Artworks in Oils. Acrylics. Charcoal & Graphite. Tea. Multi-media.
My paintings and art installations are installed at many clients' offices and private residences in Mumbai, Bangalore, Delhi, Seattle, Boise, San Francisco, Philadelphia, Pittsburgh, Tokyo, South Africa, London, Buffalo.
Mammoth Wall Murals. Large & Small Canvases.
Wall Murals in public and Event spaces, homes, media and communication office spaces.
Also, large-format canvases in desired sizes and shapes and themes to fit Architects', Interior Designers' and Clients' vision of their work and living spaces.
Tamasamo Jyotirgamaya
Giant Wall Mural by Murali Raman
From the Darkness of Ignorance to the Light of Knowledge.
Shree Ram Welfare Society School in Andheri West has, in the process of inspiring teachers, parents and especially students., created a landmark in yhus premier suburb of Mumbai.
A 53 ft high wall mural that is 30 feet across draws immediate attention to the school even to passers-by on the main stretch of this leafy by-lane. Conceived and executed by Artist Murali Raman and his team from The Terribly Tiny StudyO, this visual metaphor has a simple story to relate.
The layered narratives here - the kids determinedly climbing up the wall of a huge notebook and pulling down the page to reveal the brilliant light of knowledge is parallel to the dark, confused, ignorant, state of mind giving way to a glorious dawn in a radiant sky...and the brilliant sun dispels all fears, imparts knowledge and gives confidence.
The role of parents and teachers is also shown.
The treatment is a stylized ode to this artist's favourite legendary master - Vincent Van Gogh.
Complete creatives for Homes, Offices, Shops/Outlets, Window Displays.
3-D Art Installations of different scales, magnitudes & materials
These are videos of two of my installation projects:
Khidkiyaa The Incredibly Big Bang
---
Please browse through the works showcased here and mail or call me for commercial details.
---
See here
Acrylics, Oil, Tea & Ink on Stretched Canvas
Acrylics on Stretched Canvas
Oils on Stretched Canvas
Acrylics on Thai Paper
Oils on Wooden Board
Acrylics on Art Paper
Acrylic, Tea, Graphite Pencil on Paper
Oil Pastel on Bristol Vellum Paper
Installation Art – Multimedia
Office Wall Murals
Found Material
India Ink on Photo-print on Stretched Canvas
Digital Art – MS Paint
Graphite & Charcoal Drawings